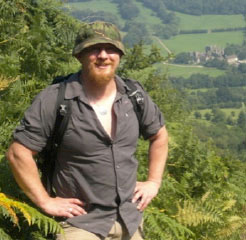 We are delighted to welcome professional illustrator, Karl Whiteley, as our guest artist who produces fantastic work in one of our favourite traditional mediums, pen and ink.
Not only do we love Karl's style and humour that he incorporates into his work, but we also think Karl does such a great job using  pen and ink medium to full effect.
Working from his studio in Bristol, Karl produces very popular original pen and ink drawings of landscapes, bespoke wedding invitations, comic strips and witty illustrations printed out on T-Shirt designs. You can buy any of Karl's work by visiting Karl's website, its well worth a visit.
Here is what Karl says about how he started out, and what inspired him to become a full time artist using pen and ink as his medium of choice.
"I always really liked the Calvin and Hobbes and Commando comics when I was a kid. Detailed, vibrant black and white drawings with loads of cross hatching and stippling. After years doodling in school, then at work while I should have been doing other things, I hit thirty and decided to make illustration my living.
I tried a fair few techniques and tools, until the weapon of choice became the technical drawing pen, the disposable type that cost about ten pounds for six different sizes. The brand that fills my pencil case is 'Pigma Micron' made in Japan by 'Sakura'.
I begin an image loosely with my prized silver 'Waterman' mechanical pencil. Once I'm happy, I draw straight over the top, applying outlines and major features with a thicker gauge 0.8/0.5 mm pen then adding finer detail with a thinner 0.3/0.2 mm nib and finally I do the subtlest details and shading with a very fine 0.1/0.05 mm point. When it comes to adding colour; pencil, watercolours or Photoshop do the trick. It all depends on the job and required end result, which usually tends to have a traditional appearance.
That's the style that work's for me. It sounds very particular but I'm not as stringent as I've made it sound. As with many artists, if needed, the methodology can be adapted to suit what is being worked on, it's important though to not compromise your style too much but be flexible and try new things that can add to your repertoire".
Using the pens described above this 'Amy + John' is an example of Karl's comic strip illustrations.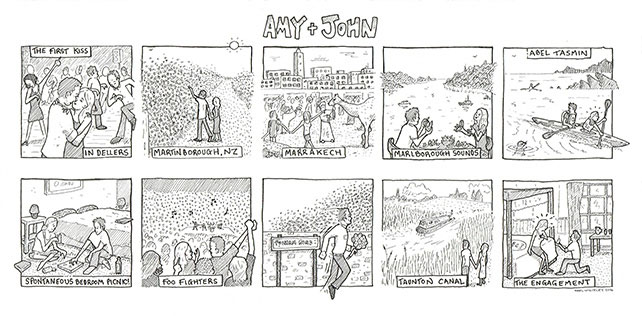 Here is an example of Karl's designs tailored as bespoke wedding invitations. They contain warmth and humour and can be bought ready made or printed. They contain witty illustrations and can be created to tell a personal story of the planned wedding day.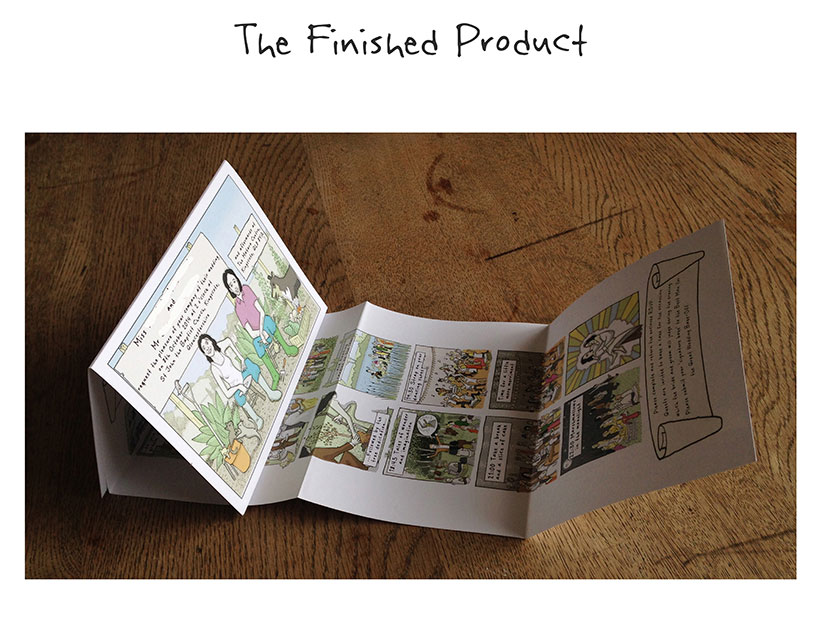 To contact Karl you can find him here on Tel: 07859 076128 or email karl.whiteley@live.co.uk. More of Karl's work can be found at www.who587.com.